Trading Pairs:
EURUSD, AUDUSD, EURJPY, USDJPY, USDCAD, CHFJPY, EURGBP and GBPCHF
FXStabilizer Pro – Stable Profit since 2015!
FXStabilizer EA is one of the Forex robots that has become widely known on Forex robotrading, so we can't help but review it today. Developers believe that this robot is characterized by regular profit without long drawdowns, incredible reliability, and durability to all changes at the Forex market. In this review let's see together what does this Forex EA has to give traders.
FXStabilizer EA is available in two versions: FXStabilizer Pro and Ultimate. In this review, we will focus on the Pro version of the EA since it includes all the features of the Ultimate version and more. FXStabilizer Pro has got five live accounts verified by the 3-rd party company Myfxbook. There are two main currency pairs that FXStabilizer Pro EA trades on – EURUSD and AUDUSD, each of them also has 2 different trading modes: Durable and Turbo. These are four out of five live trading accounts available on Myfxbook for FXStabilizer Pro and there is also a USDCAD live account that does not have trading mode switch.
FxStabilizer Turbo EURUSD
FX Stabilizer Durable EURUSD
Fx Stabilizer Durable AUDUSD
FXStabilizer Turbo AUDUSD
FXStabilizer USDCAD
FX Stabilizer EA Backtest Statistics!
We decided to make tests on quotes history of the longest possible period just to make sure in FxStabilizer reliability. Started date was set 1997 till today of 2018 (AUDUSD). The results were astonishing. That convinces us more in our trading system reliability!
FXStabilizer Durable EURUSD since 2009

FXStabilizer Turbo EURUSD since 2013

FXStabilizer Durable AUDUSD since 1997

FXStabilizer Turbo AUDUSD since 2013

FXStabilizer CHFJPY since 2014

FXStabilizer EURGBP since 2014

FXStabilizer EURJPY since 2014

FXStabilizer GBPCHF since 2014

FXStabilizer USDCAD since 2014

FXStabilizer USDJPY since 2014

Profitability & Drawdown
As it's been mentioned FXStabilizer Pro has 5 official accounts available on Myfxbook: FXStabilizer Turbo EURUSD, FXStabilizer Durable EURUSD, FXStabilizer Durable AUDUSD, FXStabilizer Turbo AUDUSD, and FXStabilizer USDCAD.
The most successful of the available live account has been FXStabilizer Turbo EURUSD, which has already gained 2039% of profit during its trading since April 2016 at the same time having the average monthly gain level of 6.09% (look at the graph below).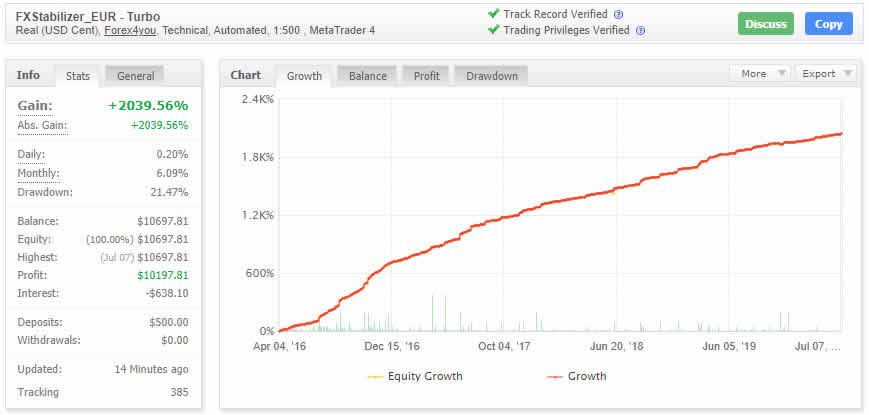 Official highest floating drawdown level on the account is 21.47% but if we open the "Drawdown" graph on this page we'll see that since the start of the trading FXStabilizer Pro hasn't faced this high drawdown levels when closing positions. The highest fixed drawdown we can see on the full history of the trades is 3.83% which is not even close to the numbers we see on the info stats of the account. It means that there should be no deep drawdowns on the deposit. The EA covers losses and closes losing trades with a very small damage.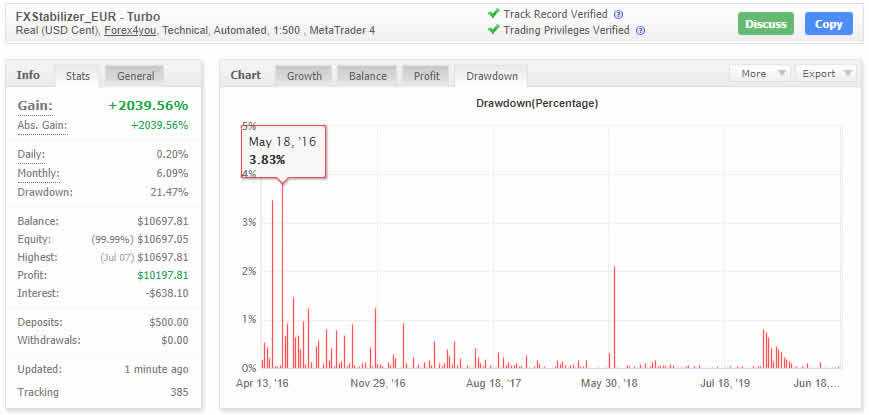 But even if we rely on the information of 21.47% of the highest drawdown on the account it is still really impressive numbers if taking into account total gain of more than 2K%. In fact, an average drawdown to profit ratio, in this case, is amazing. It is equal to almost 2:1 if we call on the number of the trading month, which is 52. It seems incredible that the system trades in the way that in the ratio a profit is higher than drawdowns.
EURUSD Durable account is the second by the gain level which is 659% for approximately the same trading period. Having almost a 40% drawdown level this trading account still shows pretty good results. Being alive for the same 52 months the EA used to have 1:2.8 an average drawdown to profit ratio which should be called high profitable Forex trading system as well as the FXStabilizer Pro using Turbo mode in the EURUSD currency pair.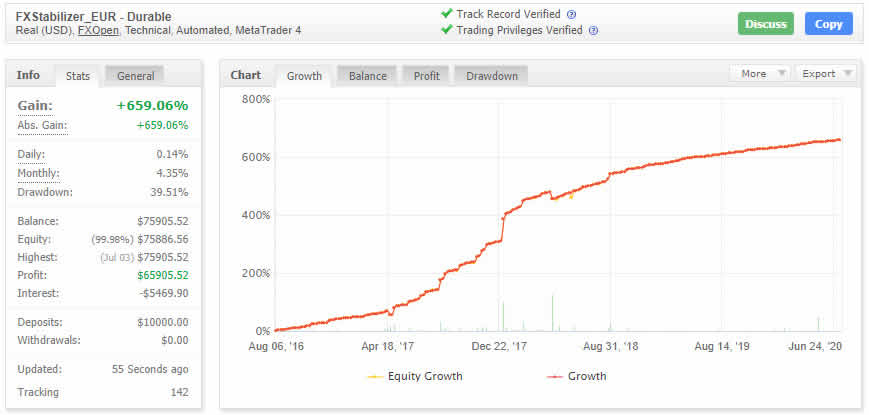 There is a Turbo AUDUSD account which has been live for 28 months and has collected almost 488% of gain during its trading. The drawdown level of this account is around 50% and the drawdown to profitability ratio of this account is almost the same as the ratio of the previous account – 1:2.9, which shows us that FXStabilizer is able to trade stably and profitably on different currency pairs
Another live account that's also had good trading results and high profitability to drawdown ratio is the FXStabilizer USDCAD system, which has collected 398.5% of total gain during its 21-month trading period. The profitability to drawdown ratio of USDCAD is pretty impressive as well. It almost reaches 1:1, having 1:1.6 according to live statistics. The ratio in this case is even better than two previous systems.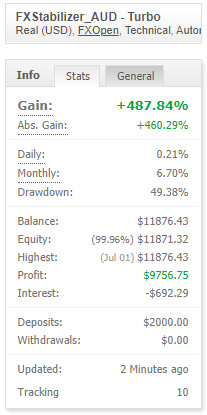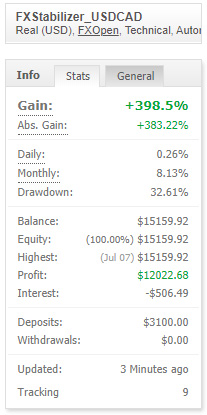 There is only one live account of FXStabilizer Pro that has had a hard time collecting gain and even got a stop-loss in August of 2019 which was done according to the systems' mechanism of absolute trading security. It is FXStabilizer Pro AUDUSD Durable that has collected only 51,18% of gain trading since April 2015. Being live for a total of 64 months and having 37,54% of drawdown level we can see that the system hasn't shown high results. Yes, we could admit that the system is stable since it has been trading for more than five years and faced only one big loss but the profit factor of the system was not so high (look at the chart below).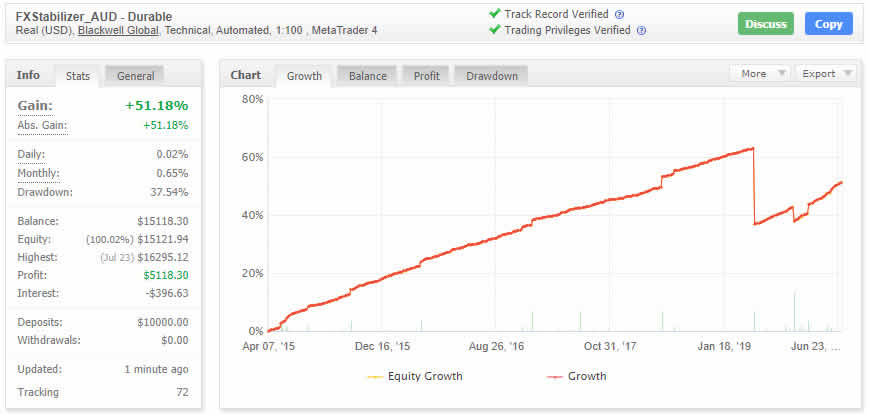 So, as we can see, FXStabilizer Pro has been showing mostly good and, in some cases, even great results, proving its name, philosophy, and the strategy put into it. It brings stable profit with a good profit factor almost in every currency pair it has been made to work on for more than 5 years now. I would say that this EA is worthy to be named as the developers of the EA call it – the Forex robot that is characterized by regular profit without long drawdowns, incredible reliability and durability to all changes at Forex market.
Type of Trading
FXStabilizer Pro, as it was mentioned before, has been working on the real live account since 2015. According to its safe trading strategy it uses micro and mini lots depending on the currency pair and the trading mode of the pair. For example, on the chart of the EURUSD, it is clearly seen that FXStabilizer has been using a standard micro-lot since the beginning of its statistics. Here is the trading activity of the FXStabilizer Pro at the beginning of its trading and current trading activity compared in two pictures below: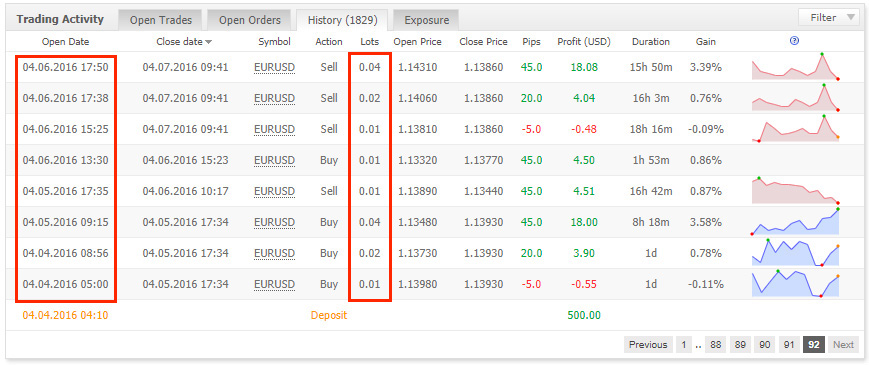 The developer claims that the robot accurately calculates the best situation to open trades and does everything to close trades in profit. It is possible that to achieve this the EA uses the Martingale grid strategy doubling the lot size to close a position in profit and it seems to works pretty well. It is not clear how exactly the system calculates entry point but as we can see it works properly.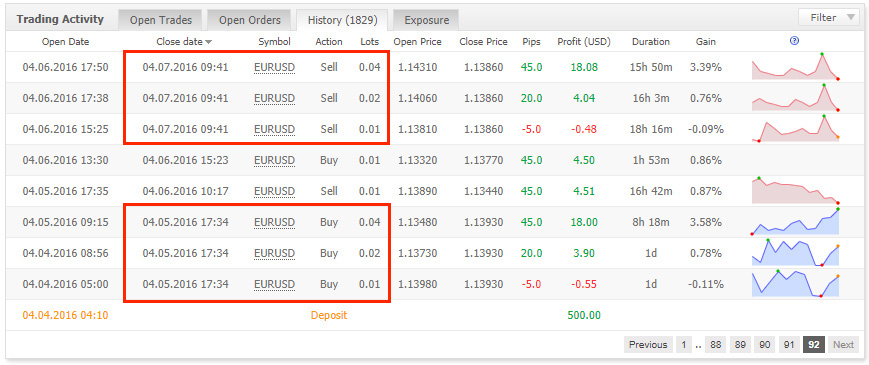 "Also, the EA is equipped with a mechanism of absolute trading security so that as a last resort the loss will be stopped at that part of the deposit, you're ready to risk" – says the developer. This system has had a possibility to show itself in August of 2019 on the FXStabilizer Pro AUDUSD Durable account when it faced a stop-loss. This was the security mechanism that as a last resort stopped trading in a loss at the part of the deposit that's been set as a max risk level for the account.
Also, there have been almost 2000 trades done since the start of the live trading on the EURUSD Turbo account of the FXStabilizer Pro as we can see from the chart below. It is approximately 35 trades per month which also confirms developers' statement that the EA trades and brings stable profit every day. Statistically, the average number of trades per day is equal to 1.16.

The approximate average duration of the trades varies from >30 minutes to 7-10 days depending on the currency pair and the trading mode of the system. But mostly FXStabilizer Pro closes trades in 3-7 days. In most cases when the trades stay on the market for a longer period, they are closing in a loss. But that is not the rule. And it is okay since the system uses a Martingale grid to cover the losses.
There is also one more feature of the FXStabilizer Pro that hasn't been mentioned before. The Pro version of the EA includes an extra license of a special version of the EA – FXStabilizer Unlocked. This is the main difference between the Pro and the Ultimate versions of the FXStabilizer. FXStabilizer Unlocked is a unique Forex trading system that has no restrictions on currency pairs and has completely customizable parameters. In practice, it means that you are allowed to change almost everything in the trading logic of the EA and in fact to create your own Forex robot on the base of the FXStabilizer EA. It is similar to a constructor that is equipped with a very customizable set of settings. There is a detailed instruction on how to customize and use FXStabilizer Unlocked properly included in the pack of FXStabilizer Pro.
Summing up the review it is important to note that FXStabilizer EA corresponds to what the developers claim about it. Analyzing its trading statistics and other charts we can see that the EA really brings regular profit without long drawdowns and trades stable with incredible reliability. And all the trading results poove it with total confidence.
Taking into account the number of available currency pairs and trading modes, the longest possible backtesting period, more than 5 years of long live trading statistics, money back guaranty, and all other features on my opinion FXStabilizer Pro deserves to be called reliable and stable Forex trading system with normal profitability level.
There is not much detailed information about the trading logic and strategy of the system available but the trading results such as a very high profit-factor and long upward trading statistics speak up very clearly for the reliability and durability of the FXStabilizer EA.